Weddings: General Information
Bull Creek Ranch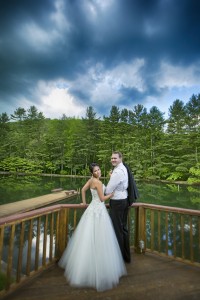 Bull Creek Ranch is one of only a few local wedding venues to offer truly comprehensive packages: all infrastructure (tent, chairs, linens, dishes, utensils, etc.), all labor (set up/take down, bussers/servers, event planning and management, officiant/minister, bartending, day of coordination) and all vendors. Couples are able to purchase and provide their own alcohol for an additional cost savings. Our packages include: food, flowers, dessert, photography, and DJ (plus the labor and infrastructure) at a guaranteed price, from the moment of contract signing.
Wedding Package Pricing & Information
For our most up-to-date pricing information, please click here to Contact Us via email or phone!
Our Philosophy
We believe that weddings should be about two families coming together in an atmosphere that is joyful, loving, and stress free. To this end, we have designed our packages so that you can just enjoy and your family and friends do not have to labor on your behalf either.
Our Vendors
The vendors we have included in your package have agreed to give you better pricing than you would receive were you to go to them on your own and to guarantee their pricing no matter how far in advance you book.  This way, we are able to create a fully transparent package that saves you a significant amount.  Our caterer, for instance, charges you $15/per person for what typically costs at least $40 per person.  Our photographer charges $1500 for what typically costs at least $2500.   In exchange, we provide them with great clients and guaranteed work, without having to advertise.  Not only must our caterers provide a great product or service at a more than reasonable price, they must be nice!  People leave their events feeling as if they have been truly cared for by all people involved.
Love Multiplies!
We believe that your love should foster more happiness in the community.  A portion of the cost of each event is donated to a local charity,  Brother Wolf Animal Rescue, in honor of your event.
Thank you for the lovely place. We all had a peaceful and wonderful day. Peace be with you and all who
enter here.